First, I need to apologize for the incredible lateness of this post. I fully intended to do this much sooner, but between work and some family issues I've been away from the computer for a while. I'm hoping to rectify that this week and get back on track!
I'd like to express my thanks to the people that passed along these awards to me. It astonishes me that a) I received any awards at all and b) People are interested enough to actually read my new blog. It's been great getting to find so many other people with a similar interest and passion in books and reading =)
Jenny from
TakeMeAway
gave me
The Zombie Chicken Award
!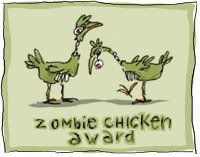 The blogger who receives this award believes in the Tao of the zombie chicken - excellence, grace and persistence in all situations, even in the midst of a zombie apocalypse. These amazing bloggers regularly produce content so remarkable that their readers would brave a raving pack of zombie chickens just to be able to read their inspiring words. As a recipient of this world-renowned award, you now have the task of passing it on to at least 5 other worthy bloggers. Do not risk the wrath of the zombie chickens by choosing unwisely or not choosing at all.
1. Alaine at
Queen of Happy Endings
2. Lisa at
Book Blab
3. Mandy at
Edge of Seventeen
4. Nikola at
Nikola's Book Blog
5. J. Kaye at
J. Kaye's Book Blog
I also received the
Your Blog Rocks!
award from Jenny at
TakeMeAway
and Lisa at
Book Blab
!

I'd like to pass this along to:
1. Faye at
Ramblings Of A Teenage Bookworm
2. April at
Good Books & Good Wine
3. Natalie at
The Book Inn
4. Rebrebs at
Count Rebula's Concepts & Comments
5. Linda Ellen at
Bambi Reads
And lastly, the
Super Comments Award
, which I received from Jenny at
TakeMeAway

1. Linda Ellen at
Bambi Reads
2. Faye at
Ramblings Of A Teenage Bookworm
3. Krista at
Life or Something Like It...
4. Alexia at
Alexia's Books and Such
5. Jenny at
TakeMeAway
(Yup, I'm re-awarding it to you! lol ;-) )
Thanks again, everyone - These awards made my day! I hope everyone is having a great start to their week :)