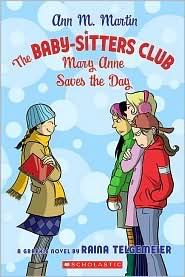 Title:
Mary Anne Saves the Day (BSC Graphix Series)
Author:
Ann M. Martin and Raina Telgemeier
Publisher:
Scholastic, Inc.
Publication Date:
September 1, 2007
Genre:
Children's Graphic Novel
Summary (from back of book):
When the Baby-Sitters Club girls get into a huge fight, Mary Anne is left to her own devices. She has to eat by herself in the school cafeteria, figure out how to make new friends, and deal with her overprotective father. But the worst thing to happen is a baby-sitting emergency where she can't turn to her friends for help!
Can Mary Anne solve all her problems
and
save the Baby-Sitters Club from falling apart?
Review:
The Baby-sitter's Club books were one of my favorite book series growing up. I remember devouring the books when I was little and constantly begging my parents to go to the library so I could bring home another one. When I first heard that the BSC series was being made into graphic novel format I had two simultaneous reactions: "THAT'S AWESOME!!! I

need

to go to the bookstore to get this ASAP!!" and "Wait..what if they RUIN it?"
So I bit the bullet, picked up the first few and hoped for the best. I'm happy to report that I haven't been disappointed in the least. I think
Mary Anne Saves the Day
is probably my favorite of the three I've read so far (there are 4 in the graphic novel format.) The comic strip layout is an interesting and fresh way to read the series. Although it will never replace the original books, Raina Telgemeier manages to capture all the significant parts of the storyline through art in a way that sucked me in just like when I was reading the books as a kid.
I'm definitely looking forward to picking up the next installment:
Claudia and Mean Janine
. My only qualm is that there are no plans (that I know of, anyway) to continue with any more of the books in this graphic novel format.