MizB
over at
Should Be Reading
is hosting a fun meme called
Friday Finds
: What great books did you hear about/discover this week?
My finds:
H

ush, Hush
by Becca Fitzpatrick

Description from Amazon:

For Nora Grey, romance was not part of the plan. She's never been particularly attracted to the boys at her school, no matter how much her best friend, Vee, pushes them at her. Not until Patch came along.
With his easy smile and eyes that seem to see inside her, Nora is drawn to him against her better judgment.
But after a series of terrifying encounters, Nora's not sure who to trust. Patch seems to be everywhere she is, and to know more about her than her closest friends. She can't decide whether she should fall into his arms or run and hide. And when she tries to seek some answers, she finds herself near a truth that is way more unsettling than anything Patch makes her feel.
For Nora is right in the middle of an ancient battle between the immortal and those that have fallen - and, when it comes to choosing sides, the wrong choice will cost her life.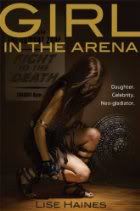 Girl in the Arena
by Lise Haines
Description from Amazon:
Lyn is a neo-gladiator's daughter, through and through. Her mother has made a career out of marrying into the high-profile world of televised blood sport, and the rules of the Gladiator Sports Association are second nature to their family. Always lend ineffable confidence to the gladiator. Remind him constantly of his victories. And most importantly: Never leave the stadium when your father is dying. The rules help the family survive, but rules—and the GSA—can also turn against you. When a gifted young fighter kills Lyn's seventh father, he also captures Lyn's dowry bracelet, which means she must marry him... For fans of The Hunger Games and Fight Club, Lise Haines' debut novel is a mesmerizing look at a world addicted to violence—a modern world that's disturbingly easy to imagine.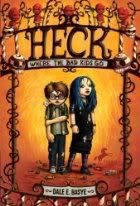 Heck:
Wh
ere the Bad Kids Go
by Dale E. Basye
D
escription from B&N:

When Milton and Marlo Fauster die in a marshmallow-bear explosion, they get sent straight to Heck, an otherworldly reform school. Milton can understand why his kleptomaniac sister is here, but Milton is—or was—a
model citizen. Has a mistake been made? Not according to Bea "Elsa" Bubb, the Principal of Darkness. She doesn't make mistakes. She personally sees to it that Heck—whether it be home ec class with Lizzie Borden, ethics
with Richard Nixon, or gym with Blackbeard the pirate—is especially, well, heckish for the Fausters. Will Milton and Marlo find a way to escape? Or are they stuck here for all eternity, or until they turn eighteen, whichever comes
first?