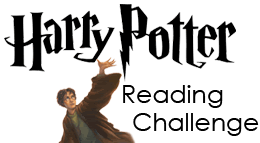 It seems I've stumbled upon my first reading challenge and it's of no surprise that it pertains to Harry Potter :)
My love for Harry Potter knows no bounds. I'm not joking, not even a little bit. Last month a friend and I planned our entire vacation to the UK around Harry Potter -- we camped out for 14 hours at the premiere (which included way too much rain and hail for my liking) and proceeded to visit every HP site we could find in London and Edinburgh.
Since the trip, I have actually been attempting to refrain from re-reading the series. Why would I do such an absurd thing, you ask? Because when I re-read HP (and it's usually all 7 in a row) I feel like I'm neglecting the other books on my shelf that have yet to be read.
Yes, I'm well aware that I might be a tad crazy. It's
OK
though, I embrace it!
Michelle from
Galley Smith
is hosting the
Harry Potter Reading Challenge
which has thankfully given me an excuse to succumb to my need to re-read the Harry Potter books! Here is the basic info for the challenge:
When:
August 1, 2009 - July 31, 2010
What:
Read (or listen to) all 7 books in the Harry Potter series
Philosopher's Stone

Chamber of Secrets
Prisoner of Azkaban
Goblet of Fire
Order of the Phoenix
Half-Blood Prince

Deathly Hallows