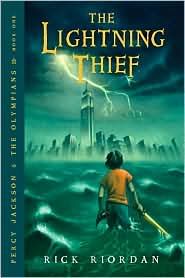 Title:
The Lightning Thief (Percy Jackson and the Olympians #1)
Author:
Rick Riordan

Publisher:
Hyperion Books for Children/Miramax Books

Publication Date:
April 2006
Genre:
Children's Fiction, Fantasy


Summary (from back of book):
Percy Jackson is about to be kicked out of boarding school...again. And that's the least of his troubles. Lately, mythological monsters and the gods of Mount Olympus seem to be walking straight out of the pages of Percy's Greek mythology textbook and into his life. And worse, he's angered a few of them. Zeus's master lightning bolt has been stolen, and Percy is the prime suspect.
Now Percy and his friends have just ten days to find and return Zeus's stolen property and bring peace to a warring Mount Olympus. But to succeed on his quest, Percy will have to do more than catch the true thief: he must come to terms with the father who abandoned him; solve the riddle of the Oracle, which warns him of betrayal by a friend; and unravel a treachery more powerful than the gods themselves.
Review:
I remember first seeing this book when I was working at a bookstore while in graduate school. I was shelving in the kid's section and being drawn to take a look at the book because I thought the cover was interesting. I was intrigued by the summary on the back of the book but it was another couple of few years before I finally brought the book home. I loved the idea of using Greek Mythology as a main part of the story. It wasn't until I started reading that I realized how much I was utterly lacking in my knowledge of Greek gods. It was neat to uncover different stories along the way.
The Lightning Thief
is chock full of adventure, action, betrayal (gasp!), friendship and family. I'll admit, there was about 50 pages in the first third or so of the book where I was getting a little bored. It's not that there wasn't action (there's loads of it throughout the story) but I just wasn't enjoying it as much. I came pretty close to putting the book down at one point as I was frustrated about having read quite a few books this year that I ended up not liking as much as I thought I would and was really hoping this one wouldn't fall into that category.
I took a break from the story for a few days before giving it another go. The rest of the book really picked up and I found myself rushing a bit through my morning routine before work so I would have time to read some of it before I left for the day. The action was heightened a bit and I couldn't help but keep turning pages because I couldn't wait to find out what happened next.
The Sea of Monsters
is the next book in this series and I have already added it to my wishlist. Percy Jackson and the Olympians, so far, has proven to be a fun series for kids and adults alike. I'm looking forward to seeing where Percy's adventures take him next.